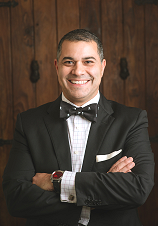 Omar Ortega is a founding member and shareholder of Dorta & Ortega, P.A. Prior to obtaining his law degree, Mr. Ortega received a Bachelor of Science from Florida International University in the field of Criminal Justice. He attended law school at Drake University in Des Moines, Iowa where he graduated with honors and was a published member of the Drake Law Review.
After graduation, Omar returned to Miami and became a prosecutor with the Miami-Dade County State Attorney's Office. While at the State Attorney's Office, he was responsible for the prosecution of crimes from misdemeanors through life felonies. During this time, Omar tried countless jury and non-jury trials. Additionally, he was selected to be the Assistant Chief for the DUI Traffic Division for the County Court Division of the State Attorney's Office. As Assistant Chief, he was responsible for the training and supervision of over forty (40) prosecutors. This included the supervision of every misdemeanor DUI and Traffic offense prosecuted by the Miami-Dade State Attorney's Office during his tenure. Omar contributed to the drafting of the DUI and Traffic manual still used today to train Assistant State Attorneys.
Having fulfilled his ambition to become a prosecutor in Miami-Dade County and serve his community, Omar was given the opportunity to become an associate at the largest certified minority-owned law firm in the United States. This new opportunity allowed him to concentrate his practice in the areas of commercial litigation, appellate practice and criminal defense. For several years he was able to learn the complexities of these areas from some of Florida's finest lawyers.
The experience gained as a prosecutor and as a lawyer in private practice encouraged Omar to pursue the creation of a firm whose goal was to provide exceptional legal representation based on the experience of its lawyers and compassion for the causes of their clients.