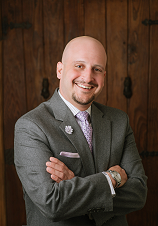 Rey Dorta is a trial attorney with extensive experience in criminal and civil litigation and a founding member of Dorta & Ortega, P.A.  Along with Mr. Ortega, he oversees and manages the firm's Criminal Defense, Personal Injury, Workers' Compensation, Overtime Claims, Foreclosure Defense, Debt Collections, International Arbitration, Bankruptcy and Commercial Litigation Departments.  He is licensed to practice in the U.S. District Court for the Southern and Middle Districts of Florida.  Rey holds a Bachelor and Masters in Science degree from Florida International University and a Juris Doctorate from The University of Akron.  Mr. Dorta is AV® rated with Martindale-Hubbell Law Directory.  The Law Directory establishes this rating by anonymously querying members of the Bar and Judiciary. Rey's AV® rating signifies he has been recognized by his peers and the judges before whom he has appeared for the highest levels of skill and integrity.
As a former prosecutor for the Miami Dade State Attorney's office, as well as Staff Counsel for Chartis Insurance (formerly AIG), Mr. Dorta gained ample trial experience as lead counsel for a large variety of crimes and causes of action.  Through his vigorous and zealous representation, he has been able to repeatedly succeed on behalf of the firm's clients.
In the Civil context, Mr. Dorta handles complex State and Federal civil litigation involving severe personal injury and wrongful death.  He also represents clients in all types of injury claims arising out of automobile accidents, products liability, medical malpractice, nursing home negligence, funeral home negligence, negligent security, premises liability and workers' compensation accidents.  Furthermore, he also concentrates on Overtime claims and Commercial Litigation.
In the Criminal context, Mr. Dorta handles State and Federal white collar criminal defense, government investigations, and a wide variety of criminal charges from murder and drug trafficking to DUI's. He also represents individuals and companies in civil and criminal government investigations.