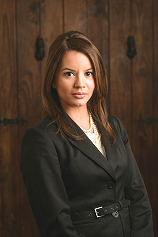 Rosdaisy Rodríguez is an Associate Attorney at Dorta & Ortega, P.A. She graduated magna cum laude from the University of Puerto Rico with a Bachelor's Degree in Finance in 2006. She earned her Juris Doctor Degree, with the honors designation of magna cum laude, from Saint Thomas University School of Law in 2014.
Ms. Rodríguez enjoyed many honors while in law school, including book awards for the highest grade in Appellate Advocacy & Advanced Legal Writing and Civil Procedure, forming part of the Dean's List, being a recipient of the Dean's Merit Scholarship, and earning a Pro Bono Commendation. Ms. Rodríguez also worked as a legal intern in the Economic and Environmental Crimes Division of the United States Attorney's Office for the Southern District of Florida, the Office of Federal Operations of the Equal Employment Opportunity Commission in Washington D.C., and the Miami District Office of the Equal Employment Opportunity Commission.
Ms. Rodríguez is fluent in Spanish, and a member in good standing of the Florida Bar.